If you're like most people with a packed daily schedule, sometimes it feels like a huge inconvenience to get up after a long day to go work out. (If you only have free time in the early mornings, dragging yourself out of bed is arguably worse.) Luckily, an effective workout is a quick download away with free workout apps that can motivate everyone, from the laziest loungers to fitness freaks.
Fad diet plans and gym memberships can cost you a pretty penny, or you can rely on these tried-and-true fitness apps to reach your goals. Besides, your phone already motivates you to do almost everything else.
Buy The 10 Best Free Workout Apps to Get Your Heart Racing
 The best free workout apps
Sworkit (short for "simply work it") is on a mission to minimalize your routine and make working out simple. Users have the option to pick more than 20 different pre-made workouts including cardio, yoga, strength training, and stretching. Each workout guides users with audio cues and short videos of real trainers who demonstrate the motions.
Besides the clean, user-friendly interface, the best thing about Sworkit is that it allows you to tailor specific workout lengths to your schedule. Users can snag a quick or lengthy personal workout at any time of the day.
C25k, otherwise known as "Couch to 5k," is the perfect workout app if you're a beginner trying to reach a set goal. The app gets you off your couch, literally, and trains you in intervals to prepare you for running a 5k after an eight-week plan. Users will work out three times a week, with breaks between each day, and each session lasts between 30 to 40 minutes. C25k is very user-friendly, and it helps you feel accomplished after each day is completed.
The point of the app is to show users that not everyone was born a runner—but you can easily transform into one.
Nike+ Training Club is designed specifically for women, but ideally anyone can use it. The app includes more than 85 instructor-narrated workout routines curated by Nike professionals, pro athletes, and celebrities like Glee star Lea Michele, Olympic gymnast Shawn Johnson, and personal trainer Ary Nunez, who trains Rihanna. The app tracks your progress the more you use it and utilizes a reward system as encouragement to keep pushing. Users can link or create their own playlist to go along with the routines, while audio cues help you along the way.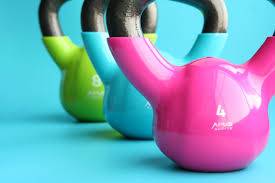 The app lets you set an end goal, tailoring each workout to help you achieve whatever fitness goal you desire. Be prepared before beginning your workout with Nike+, though. The app doesn't take breaks lightly.
Strava takes tracking your runs or rides to a whole other level. The app lets you map out and record your distance by integrating a geographic map. It includes a "Labs" feature to test different outcomes, like the ability to replay your cardio trail on its desktop interface after you have finished.
But the most interesting aspect of Strava is how it creates competition. The app lets you follow your friends to see if they're actually as good as they say they when it comes to running or cycling. After you've completed your customized workout, you can compare your performance with other users to see who hit the finish line first. If you regularly train for marathons, you can use the app to track competitors in your area and take notes for the next race.
With every mile you run or walk using Charity Miles, you can donate to more than 30 worldwide charities. The interface is sleek, easy to use, and straightforward. Before each use, you choose a charity like Feed America, Stand Up To Cancer, or Habitat For Humanity, then proceed with your exercise of choice. According to the app's website, $1.7 million has been raised so far.
Whether you're taking a leisurely stroll with your dog, walking to catch the bus, or running your favorite trail, Charity Miles helps you feel like you accomplished more than just a workout.