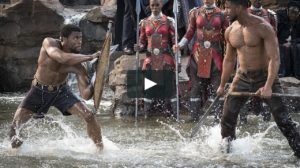 Do you like working out while listening to music? Does it keep you pumped and motivated?
The Black Panther soundtrack is here giving us an amazing feel at what is surely to be one of the best movie soundtracks of the year with songs by Grammy-winner Kendrick Lamar, SZA, Khalid, Vince Staples, The Weeknd, and many more.
The soundtrack sounds less like a movie soundtrack and more like a regular album, but it's clearly inspired by the characters of Black Panther and the fictional African country, Wakanda.
The second track, "All The Stars," received its own music video, which came out on Wednesday. Try this music out!
Listen to the soundtrack here: https://mashable.com/2018/02/09/black-panther-soundtrack/
Here's a related video you might like:
[youtube https://www.youtube.com/watch?v=JWRWvF0FJYE?rel=0&controls=0&w=640&h=360]
Here are some more great workout songs: https://www.shape.com/fitness/workout-music/best-workout-songs-playlist